2019 Lionfish Calcutta
2019 Lionfish Calcutta has been cancelled. New date will be with the 2020 Southern Open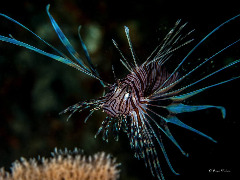 The Florida Skin Divers Association (FSDA) invites ALL DIVERS & ANGLERS to join in the removal of Lionfish (Pterois volitans) on Florida's West Central Gulfcoast. This one-day event will be held at the Belleair Boat Ramp located at 3900 W. Bay Dr., Belleair Bluffs, FL 34640, on Saturday October 12, 2019. Cash prizes for this event will be based on number of entries. The FSDA will pay out 100% of monies collected from the entry fees (less tournament expenses).
2019 Lionfish Calcutta has been cancelled. New date will be with the 2020 Southern Open
RULES:
SAFETY FIRST: We are doing this for fun, to raise awareness of lionfish and to booster funds for the FSDA that will be used to support various divers' rights programs. Do not dive beyond your training level, comfort level or violate safe diving practices.
This will be a one-day event. Diving will be on Saturday, October 12, 2019. Divers may enter the water at 7:00 AM. At least one participant from each team must be in the weigh-in line, with their fish, at Belleair Boat Ramp by 6:00 PM on Saturday, October 12, 2019. Participant's not in line with their fish by 6:00 PM will be disqualified.
Registration Ends
October 10, 2019, 2019 at 9:00 PM

Registration Fee:
$20.00 Per Diver for current FSDA members
$40.00 Per diver for non FSDA (includes 2019 FSDA membership)

This is a team based event. Teams can consist of 1 - 4 divers.

Tournament Boundaries - Northern Boundary latitude #29.00 (Yankeetown area) and Southern Boundary latitude #27.00 (Punta Gorda area) Eastern boundary is Florida's Gulf coastline, there is no Western boundary.

Participants are not required to possess a Florida fishing license to harvest lionfish.

Spines DO NOT need to be removed from the lionfish. Fish DO NOT need to be gutted.

Participants may keep their lionfish, after they have been counted. Participants may donate their lionfish to the FSDA for additional raffle tickets. For every 5 donated lionfish participant will receive 1 additional raffle ticket. Donated lionfish will be used for research and food purposes. Proceeds from the event (excluding prize monies) will be used to fund FSDA projects and selected charities.

Fish must be in whole, fresh-iced condition when presented at the weigh-in. Any fish poorly handled or iced will be disqualified.

There will be no morning check-in. Participants are free to proceed to their dive site as early as they like, but diving may not commence until 7:00 AM on Saturday, October 12, 2019.

All team members do not have to be present at weigh-in, at least one team member must be in line with all the team's fish no later than 6:00 PM. If a team's fish, with at least one team member, is not in line by 6:00 P.M., the team is disqualified.

Cash Prize Payout (tournament expenses will be deducted from payout total).
A. 50% of entry money collected for team with most lionfish
B. 20% of entry money collected for team with 2nd most lionfish
C. 10% of entry money collected for team with 3rd most lionfish
D. 10% of entry money collected for team with largest (by weight) lionfish
E. 10% of entry money collected for team with smallest (by weight) lion fish

For the largest and smallest lionfish, participant must have these two entries separated from their total catch. To save time and expedite the weigh-in line, we WILL NOT be weighing each individual fish. It will be the participants responsibility to set aside their largest and smallest entry for weigh-in.

In the event of a tie, for one of the above places, winner will be determined by which team was in weigh-in line first with their fish.

At weigh-in, each participant will be given 3 raffle tickets for a chance to win a prize from the table. Quantity and value of prizes will be determined by the generosity of our sponsors. Additional raffle tickets may be bought at the day of the event. Winner must be present at event.